Modeling and Prediction of Pitting Corrosion
---
EVS-Compass®: Extreme Value Statistics for Corrosion Modeling and Corrosion Life Prediction
Extreme value statistics (EVS) has been used since the 1950s for extrapolating corrosion damages (maximum pit depth, crevice depth, crack depth etc.) from small lab samples, field coupons, or partial coverage inspection blocks to larger area of structures and assets at present or future times. WebCorr's EVS-Compass is the only device and OS independent EVS software on the market for corrosion modeling and life prediction of corrodible structures. Designers, OEM engineers, consultants, operation personnel, maintenance and inspection engineers, and government regulators can quickly and accurately determine:
the time to first leak or perforation;

the number of leaks or perforation at any given time;

the time to Nth leak or perforation for any given number of N;

the area of perforation holes;

the depth of the largest pit at any given time;

the depth of the Nth largest pit at any given time;

the number of pits exceeding a given depth D at any given time;

the time required for N pits to exceed the depth of D;

the probability of failure (POF) at a given time and a given wall thickness;

the service life for a given wall thickness at a given POF threshold;

the maximum surface area for EVS extrapolation in partial coverage inspection

the recommended area for lab coupons or inspection blocks

the recommended number of lab coupons or inspection blocks;

the charts showing (a) pit depth vs service life; (b) pit depth vs area; (c) probability of failure vs service life; (d) probability of failure vs area; (e) probability of failure vs wall thickness.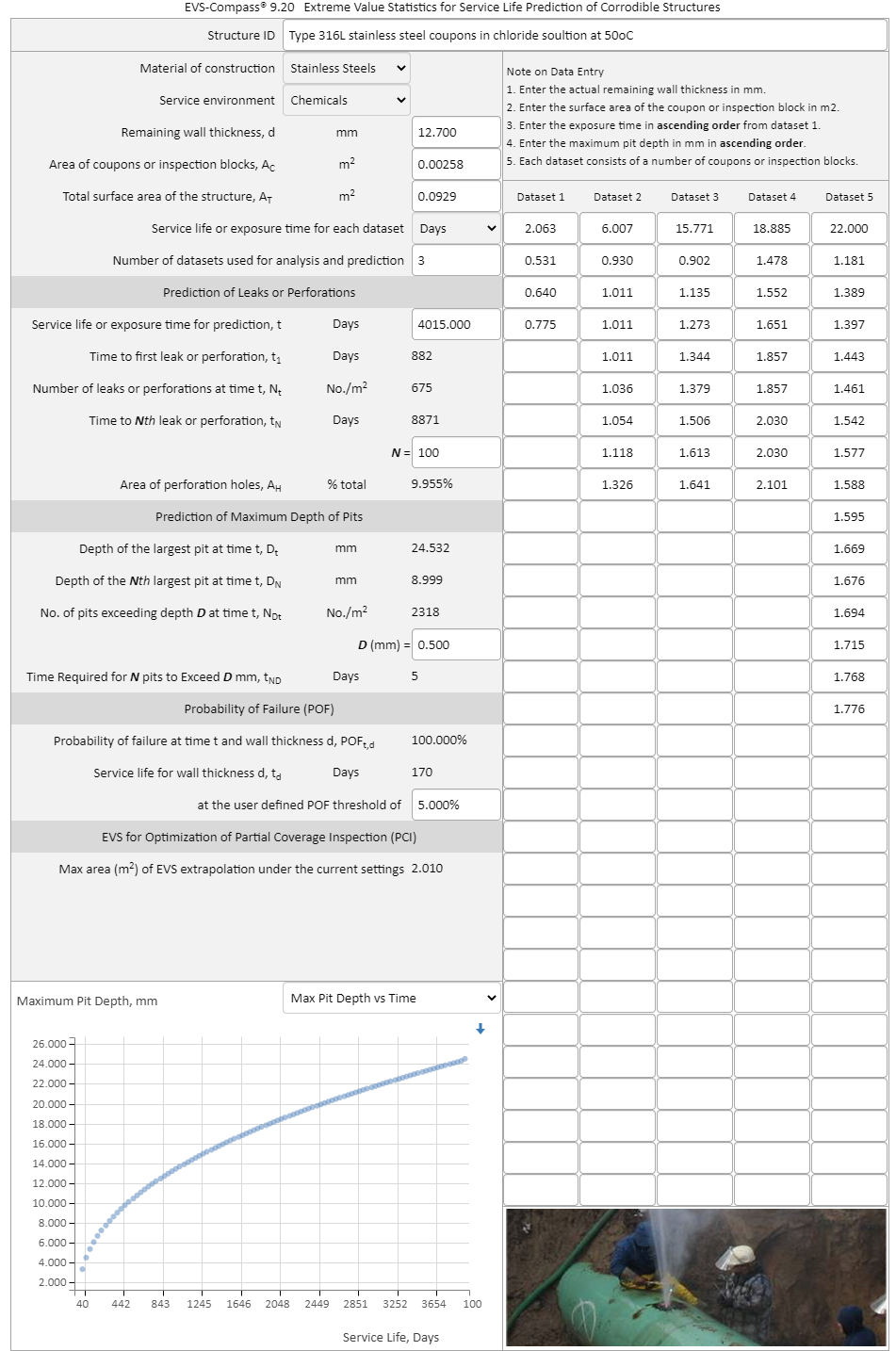 CRA-Compass®: Your Guide to Corrosion Resistant Alloys
- Corrosion Prediction, Selection and Application Limits for Resistance to Pitting, Crevice Corrosion and SSC/SCC
Overview of CRA-Compass for Waters and Brines
This module deals with the application limits of 55 common corrosion resistant alloys used in water systems including natural seawater, chlorinated seawater, brines, produced water, formation water, brackish water, groundwater, fresh water, and potable water. Users can define their own alloys for CRA-Compass to evaluate the application limits for their resistance to pitting, crevice corrosion, and stress corrosion cracking (SCC) under the specified operating conditions. The performance of the CRAs in coastal/marine environment is also included in this module. More detailed information on CRA-Compass is available here.
---
CIPAL-Compass: Copper-Induced Pitting in Aluminium Alloys
This software predicts pitting depth, pitting rate and time to perforation of aluminum alloys in contact waters and process fluids that contain trace amount of copper ions.