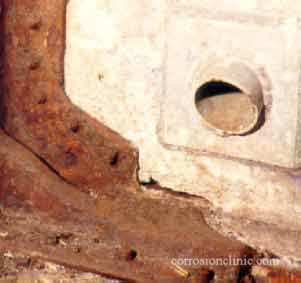 What is galvanic corrosion? Galvanic corrosion or "Bimetallic Corrosion" or "Dissimilar Metal Corrosion", as sometimes called, is defined as the accelerated corrosion of a metal because of an electrical contact (including physical contact) with a more noble metal or nonmetallic conductor (the cathode) in a corrosive electrolyte.
The less corrosion resistant or the "active" member of the couple experiences accelerated corrosion while the more corrosion resistant or the "noble" member of the couple experiences reduced corrosion due to the "cathodic protection" effect.
The most severe attack occurs at the joint between the two dissimilar metals. Further away from the bi-metallic joint, the degree of accelerated attack is reduced.
In this photo, a 5-mm thick aluminum alloy plate is physically (and hence, electrically) connected to a 10-mm thick mild steel structural support. Galvanic corrosion occurred on the aluminium plate along the joint with the mild steel. Perforation of aluminum plate occurred within 2 years due to the huge acceleration factor in galvanic corrosion.