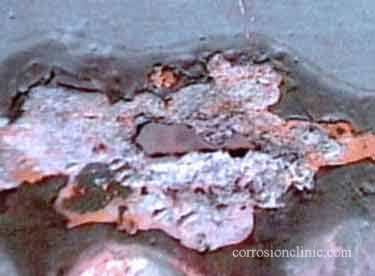 What is exfoliation? Exfoliation is a special form of intergranular corrosion that proceeds laterally from the sites of initiation along planes parallel to the surface, generally at grain boundaries, forming corrosion products that force metal away from the body of the material, giving rise to a layered appearance.
Exfoliation is sometimes described as lamellar, layer, or stratified corrosion. In this type of corrosion, attack proceeds along selective subsurface paths parallel to the surface. It is possible to visually recognize this type of corrosion if the grain boundary attack is severe otherwise microstructure examination under a microscope is needed.

Exfoliation corrosion in an aluminum alloy exposed to tropical marine environment. Also note the paint failures caused by corrosion of aluminum at the coating/aluminium interface.