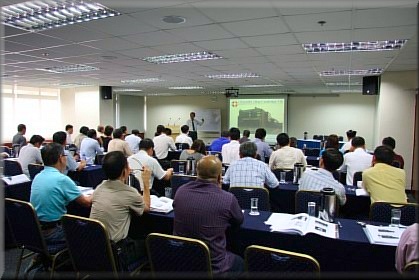 1. Train with the Expert, Train with WebCorr WebCorr Corrosion Consulting Services is in the corrosion consultancy business and corrosion training is an integral part of our expertise and strength. Real-life corrosion case studies from our corrosion consulting work bring our corrosion course contents to life. All our courses are structured with a focus on knowledge and skills transfer. You gain both solid knowledge and real-life practical experiences at WebCorr corrosion courses. WebCorr is registered with the the Professional Engineers Board Singapore as a corrosion training provider. Our corrosion courses are developed and taught by internationally recognized and NACE certified Corrosion Specialist (#5047) with 35 years of practical experience in the field. Corrosion Specialist is the highest level of professional certification in the corrosion industry by the world's largest corrosion society - National Association of Corrosion Engineers (NACE, USA). All NACE certification holders at various levels can be verified at NACE's official website.
Click here to check if your course instructor is certified by NACE.

2. Learning Support after the Training Training is an event that takes only a few days but learning is a process that can take months or even years. At WebCorr, we understand that in-depth learning starts after the training. That is why we offer 6 months of learning support after the training to all participants in our courses. Each participant will receive a user ID and a password for accessing the online version of the same course to continue the learning process at their own comfortable pace and schedule. Learners can pause, rewind or fast-forward the powerpoint presentation which is not possible in a classroom setting. Questions and discussions related to the course can be emailed directly to our course instructor for prompt response. At WebCorr, we measure our training success by your learning outcome.
Click here to contact WebCorr Corrosion Consulting Services if you need more information on learning support for WebCorr corrosion courses.
3. NACE Certification Assistance Our instructor is NACE certified to the highest level and fully understands NACE's certification requirements at various certification levels. We will assist all participants in preparing for their NACE certification exams at appropriate levels after completion of the training courses. This includes advice on NACE certification requirements, guidance on preparing and submitting application documents, writing a reference letter for your application, and assistance with finding a proctor for certification exams in your geographical areas.
Click here to contact WebCorr Corrosion Consulting Services if you need more information on NACE certification examination requirements.
4. Best Value for Money You get the best value for money at WebCorr corrosion courses. Your questions on real-life corrosion issues at hand (frequently of consulting in nature) are answered by our course instructor with 35 years of experience in corrosion consulting services. This savings in consulting fees can be worth multiple times of the course registration fee. We do not compete on course fees but on unparalleled course quality, learning support, and the best value for money. After all, our success is measured by your learning outcome.
Click here to contact WebCorr Corrosion Consulting Services if you need more information on how WebCorr corrosion training courses can benefit your business.
5. Widest Course Selection WebCorr has developed 55 corrosion courses over the last 35 years covering all different types of corrosion in all industries, from galvanic corrosion in microelectronics and semiconductor industry to microbiologically influenced corrosion in offshore and aerospace industries. Each and every one of WebCorr's corrosion training courses was developed at the request of our clients worldwide. Our clients' inputs and specific requirements help make our corrosion courses always relevant, practical, and directly applicable to the various systems, processes and industries. If you cannot find a course of your interest from our corrosion course list here, please let us know and we will work with you to customize a training course to meet your specific training needs.
Click here to contact WebCorr Corrosion Consulting Services if you need more information on WebCorr corrosion training courses.
6. Worldwide Locations WebCorr conducts in-house training corrosion courses and on-site training corrosion courses at worldwide locations selected by our clients. On-demand corrosion training courses can also be conducted in a city/country selected by our clients. Publicly scheduled courses are offered in major cities in North America, Europe, and the Asia-Pacific.
7. Guaranteed Schedule Publicly scheduled courses are typically subject to cancellation due to the minimum number of registrants required. This potential cancellation may cause huge problems for those who are interested in the course and have made plans for attending it. WebCorr is the first company that offers course on-demand (one-on-one training or in a small group) with a guaranteed schedule specifically for those who require certainty. The schedules for in-house training and on-site training are guaranteed by default.
8. Choice of Course Delivery Modes All our corrosion courses are available for any mode of delivery:
(1) In-House Training: This is classroom-based training conducted at your facility worldwide.
(2) On-Site Training: This is classroom-based training conducted on-site at your facility worldwide.
(3) Online Training: You can start an online corrosion course at any time and learn at your own comfortable pace and schedule, whenever and wherever you are. You have around-the-clock access to the interactive and media-rich course materials, virtual labs, course instructions and course assessments. Learning support is provided directly by our NACE certified course instructor via email or whatsapp.
(4) On WebEx: WebEx is hosted by Cisco, a product purpose-built for real-time web communications. If you are an existing user of WebEx, or if you are willing to experience the power of WebEx, we can conduct the course for you over WebEx with audio and video presentations and interactions with the course instructor and other course attendees in real-time. It is similar to a physical classroom setting in which everyone can interact with each other. Your questions will be answered in real time by our instructor.
(5) On-Demand: WebCorr will conduct the course just for you on an one-on-one basis or for a small group from your company at a time and location convenient for you.
(6) Distance Learning: For those who do not have ready access to the internet, we can send you our eCourse materials on a CD-ROM, or DVD, or USB flash drive for offline distance learning.
The course contents and presentation format are identical among all modes of course delivery.
Click here to contact WebCorr Corrosion Consulting Services if you need more information on corrosion training courses.